Zafira's Middle Eastern Belly Dance in Richmond, Virginia
My passion is Middle Eastern dance, also known as belly dance or bellydance, or the correct Arabic term, "Raqs Sharqi", sometimes spelled "Raks Sharki". It started on a lark, September of 1996, my sister and a friend wanted to see Sheva's beginner class, and I tagged along. I've always been interested in belly dance having seen performances at the local International Bazaar as a 6-7 year old child. As soon as I saw the class, I knew it was for me, so I signed up for Sheva's class and Scheherezade's class!! Why take just one? Currently I am a member of the Jewels of the Oasis dance troupe. My dance bio contains more information about my dance background.
I teach Fundamentals of Belly Dancing and Beyond Fundamentals, an intermediate and advanced belly dance class in Richmond, Virginia.
On July 26, 2008, Zafira's Middle Eastern Belly Dance School held it's first annual student recital. We had 19 different performances. On August 22, 2009, our second annual student recital SOLD OUT! On August 7, 2010 we had our third annual student recital , it too sold out! Our fourth annual student recital was held on October 29, 2011, and we had some great guest performers as well as beautiful numbers by my students.
Middle Eastern belly dance group lessons are available for your bridal shower, baby shower, bachelorette party, girls night Out or In, mother blessings, birthday party, hen party, and other celebrations. I also teach private one-on-one lessons. I travel to your location. Contact me for pricing.
Zafira at the 2010 Recital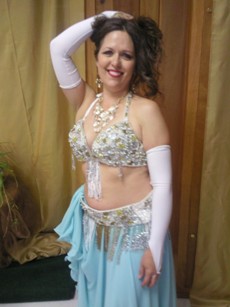 Want to see a belly dance show in the Richmond area? Shimmy Sunday is held 3 to 4 times per year at the Greek Islands Restaurant. Check back for the next scheduled date.
This video is from our first Shimmy Sunday on Jan 16, 2011, we had a marvelous line-up of dancers!
Zafira at the January 16, 2011 Shimmy Sunday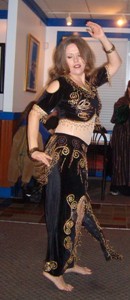 My specialty is sword! It is not a true Middle Eastern dance genre, but it is an American Cabaret belly dance style, it shows off my great balancing talents! Maybe I should take up shamadan? Check out some photos and videos of Middle Eastern Dance!!!
Tribal Style
American Tribal Style or ATS has roots in Belly Dance, which has then been fused with other dance forms such as Romani, Flamenco, East Indian and Gothic to create an artform that is uniquely American.
Richmond, VA and Regional Belly Dance Events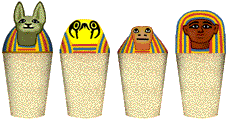 BELLY DANCE EVENTS
There are many benefits to taking belly dance classes, some of these benefits are:
Exercise - great for the core and a non-impact aerobic workout!
Lots of female friends
Fun social events - HAFLAS!
Cool music
Beautiful Costumes!
Everything you ever wanted to know about Middle Eastern Dance!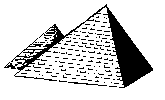 ---
Local, regional and international links to interesting belly dance information.
Shira has a WONDERFUL website!
Information to educate, entertain and inspire middle eastern dancers.
And lots of good information on creating your own web page.

---

E-MAIL ME

RETURN TO TOP OF PAGE